Official Site → http://www.dogsugar.co.jp/inumuko.html

Contact: UZUMASA, Inc 03-5367-6073
Mar. 3

—

Mar. 30, 2018
Closed Monday and Mar. 17
Running Time:13:00 * Intermission -10 minutes.
Admission:¥2,000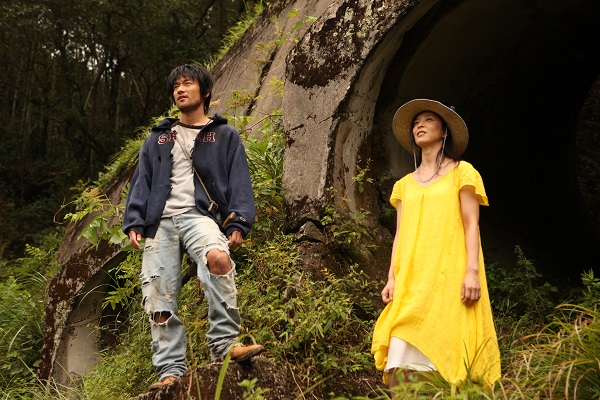 (C)2016 INUMUKOIRI PROJECT
Azusa is an elementary school teacher in Tokyo. She grew up with a family myth about a Dog Bridegroom that'd been told over generations. It's about a dog that married a princess after helping his master win a war.
Azusa gets herself into trouble at work on a particularly unlucky day. Her longtime boyfriend also leaves her which leads to a fight. On her way back from the police station, the depressed Azusa hears a voice from heaven;
"Go to Imorei Island and find your treasure."
Azusa packs and leaves, leaving everything behind. Her search for the treasure is hampered by problems. Little by little she realizes that the family myth plays an important role in her quest.
Azusa meets a motley bunch of misfits and crazy outsiders; an offbeat conman, a thuggish revolutionary, a reclusive ex-guitarist, and an exiled prince who shapeshifts into a dog. When Azusa encounters and separates from these individuals it rouses her passion and empathy. She also sees patterns of oppression and despair.
In her quest Azusa must find the answers to these questions; What is Imorei Island's secret? Why did God call her? Why was she chosen and what is her treasure?
God's calling leads Azusa from Tokyo to Okino Oshima Island, to a desert island and eventually to Imorei Island. With each event, she feels defeated and is forced to question her own values. She closes in on the mystery treasure that always stays out of her reach. Will she find the love and hope she's owed at the end of the journey?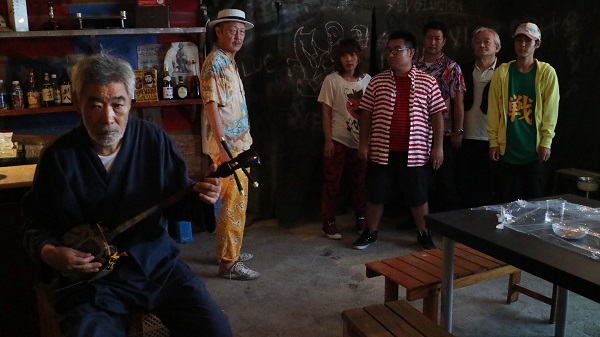 (C)2016 INUMUKOIRI PROJECT
Cast:
Narimi Arimori
Shohei Muto / Renji Ishibashi / Akira Emoto / Hanae Kan / PANTA/Mako Midori
Directed by Ikki Katashima
Written by Hutoshi Nakano and Ikki Katashima
Developed by Ikki Katashima
Produced by Yuichi Kanemaru, Hiroshi Miyagi and Naoki Takahashi
Cinematography by Masaki Tamura
Lighting Supervised by Ken Horiguchi
Recorded by Masaru Usui
Art Direction by Toshihiro Isomi and Toshimichi Kurokawa
Set Decoration by Kiyotaka Ohara
Costume Design by Jun Minei
Makeup and Hair Artist Shigeyo Nomoto
Edited by Kohei Fukuda
Visual Effects Supervised by Masaru Tateishi
Music by Kenichi Sato
Assistants Ken Suenaga and Kei Era
Production Manager Hideki Yamagishi
"Chaos" performed by Kattenishiyagare, courtesy of Hige records/Barbate Rock
Developed and Produced by Dogsugar Inc.
2016 / color / Vista / 5.1 surround / 245 minutes
©2016 INUMUKOIRI PROJECT
Lecture
Opening Day Guest Talk (in Japanese)

Mar. 3 (Sat) , after the 13:00 screening


Guest(Tentative): Ikki Katashima (Director), Narimi Arimori(cast), PANTA(cast), Shigeaki Kasai(cast), Kazuma Yamane(cast)

Guest Talk (in Japanese)

Mar. 4 (Sun) , after the 13:00 screening ~Guest(Tentative): Shouhei Muto, Narimi Arimori, Ikki Katashima (Director)
Mar. 6 (Tue) , after the 13:00 screening ~Guest(Tentative): Yasui Kuniho, Junichi Inoue, Ikki Katashima (Director)
Mar. 7 (Wed) , after the 13:00 screening ~Guest(Tentative): Narimi Arimori, Ikki Katashima (Director)
Mar. 11 (Sun) , after the 13:00 screening ~Guest(Tentative): Shigeaki Kasai(cast), Ken Suenaga
Mar. 13 (Tue) , after the 13:00 screening ~Guest(Tentative): Osamu Aoki, Ken Terawaki


Guest Talk (in Japanese)

Mar. 14 (Wed) , after the 13:00 screening ~Guest(Tentative): Ryosuke Kato(cast), Ikki Katashima (Director), Hiroshi Miyagi
Mar. 15 (Thu) , after the 13:00 screening ~Guest(Tentative): Hiroshi Takahashi, Junichi Inoue, Ikki Katashima (Director)
Mar. 16 (Fri) , after the 13:00 screening ~Guest(Tentative): Seishiro Nishida(cast), Narimi Arimori(cast), Hiroshi Miyagi
Mar. 18 (Sun) , after the 13:00 screening ~Guest(Tentative): Atsushi Tanaka, Kenichi Sato, Hiroshi Miyagi, Ikki Katashima (Director)
Mar. 20 (Tue) , after the 13:00 screening ~Guest(Tentative): Kihei Maekawa, Ken Terawaki


Guest Talk (in Japanese)

Mar. 21 (Wed) , after the 13:00 screening ~Guest(Tentative): Yoichi Sai, Junichi Inoue, Ikki Katashima (Director)
Mar. 22 (Thu) , after the 13:00 screening ~Guest(Tentative): Azumi, Narimi Arimori(cast)
Mar. 23 (Fri) , after the 13:00 screening ~Guest(Tentative): Koukichi Tanoue, Ikki Katashima (Director), Hiroshi Miyagi
Mar. 24 (Sat) , after the 13:00 screening ~Guest(Tentative): Izutaro Managi, Junichi Inoue, Ikki Katashima (Director)
Mar. 25 (Sun) , after the 13:00 screening ~ Guest(Tentative): PANTA(cast)


Guest Talk (in Japanese)

Mar. 27 (Tue) , after the 13:00 screening ~Guest(Tentative): Junichi Inoue, Jiro Yoshikawa, Lion Hitoshizuku
Mar. 28 (Wed) , after the 13:00 screening ~Guest(Tentative): Isoko Mochizuki, Ken Terawaki
Mar. 29 (Thu) , after the 13:00 screening ~Guest(Tentative): Ryuichiro Matsubara, Nobuhiro Motohashi, Ikki Katashima (Director)
Mar. 30 (Fri) , after the 13:00 screening ~Guest(Tentative): Surprise Guest