3・2・B1F
Absolutely Private
Contemprary Photography,Vol.4
Mar. 11—Apr. 23, 2006
Mar. 11

—

Apr. 23, 2006
Closed Monday (Tuesday if Monday is a national holiday)
Admission:Please see the following.
《Admission Fee》
■For all three galleries
Adults ¥1,200 (¥960), college students ¥1,000 (¥800), junior and senior high school students and persons 65 and above ¥700 (¥560).
■For one gallery
Adults ¥500 (¥400), college students ¥400 (¥320), junior and senior high school students and persons 65 and above ¥250 (¥200). Notes
__________________________________________________

Since 2002, the Tokyo Metropolitan Museum of Photography has held annual exhibitions of contemporary photography, both to support the creative spirit testing new expressive possibilities in photography and to introduce contemporary photography and visual culture to photography lovers and the general public. Each year, we hold a group exhibition of contemporary, progressive photographers on a shared theme. The first three exhibitions, based on the eternal themes of landscapes, happiness, and flowers, introduced contemporary photographers and artists using photography as a medium to reach a wider public. For the contemporary photography exhibition in fiscal 2005 (opening near the end of the museum's year, in March, 2006), the tenth anniversary of the museum's opening, we have chosen Photographic Theory in the Zero Decade as the overarching theme under which we explore contemporary photographic work from a variety of perspectives. This exhibition addresses today's photography scene-so often hived off into contemporary photography and contemporary art or into high culture and subcultures-as a continuous whole in an effort to present the zero decade to date (the first years of the twenty-first century, from 2000 on) in a single exhibition. We have tentatively selected fifteen photographers or groups from seven countries; all are young or moderately well established photographers who have distinguished themselves since 2000. The result will be an exhibition that addresses new potential and new values in photographic images.



__________________________________________________
Part 1: Myself Within Me
  Site: Exhibition Gallery 3F
Depicting themselves, as evidence of their presence in the specific settings of their lives, has been an important theme for artists since the dawn of history. Today, artists continue to explore and depict their present/presence. Such work may resemble a diary of peaceful family life or a journey through memory's mirror. Viewing these works, visitors will make their own discoveries of the fragments of the everyday so easily overlooked and their accumulated significance.
■The artists and their projects

1:Jean-Paul Brohez
 Belgium; born in 1959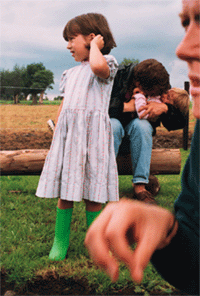 1990-2000年 Jean-Paul Brohez
From the series Aplovou, 1990-2000
Brohez's photographs appear at first glance to be ordinary, everyday scenes, but they are distinguished by the subtly clever compositions that characterize his work. He does not search out specific subjects but is receptive to what may turn up before his eyes, nimbly photographing them. To him, photography is simply "Being part of the world, living, seeing, and sharing emotions."
__________________________________________________
2:Antoine d'Agata
 France; born in 1961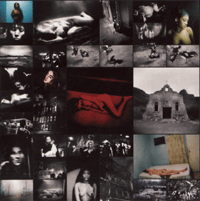 Antoine D'Agata
Vortex I (in Detail),2003
d'Agata began traveling far and wide in the 1980s; in 1990, he studied photography at the International Center of Photography in New York with Nan Goldin and Larry Clark. He won the Niéce prize in 2001 and became a member of Magnum in 2004. "What interests me is not how photographers see the world but rather a more intimate relationship between photographers and the world."
__________________________________________________
3:Arika Someya
 Japan; born in 1961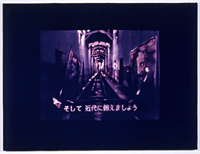 Arika Someya
from the series Decolor, 2005
Someya has published paintings created using cloth and liquids. Her new work puts images (film, video) that stick in her memory into photographs, overlays them with private memories in subtitles that leave a lasting impression, then paints them again. Images rendered into symbols and memories surface in these works. (A new work is to be shown in the exhibition.)
__________________________________________________
4:Elina Brotherus
 Finland; born in 1972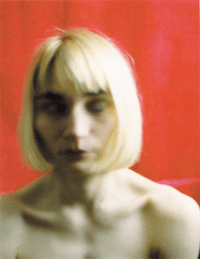 Elina Brotherus
La folle, 2002 from the series The New Painting, 2001-02
Brotherus's work, which she calls "The New Painting," quotes and reflects back on the paintings of ideal landscapes in seventeenth-century art. She imbues her distinctive self-portraits with a further suggestion of personal narrative. "Nothing is more delightful than each day's events, for our surroundings are awash in beauty."
__________________________________________________
5:Chiharu Shiota
 Japan; born in 1972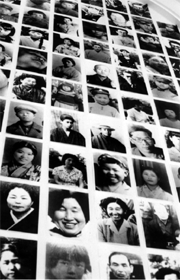 Chiharu ShiotaMy cousins face,
1998, from the series Family Portraits


After graduating from Kyoto Seika University, Shiota traveled to Germany, where she studied with Marina Abramovic and Rebecca Horn. She has published a wide variety of visual works, including photographs and videos, with performances and installations that seek the origins of the self. "Where do my memories come from? From DNA to DNA. I want to test that dialogue." (A new work is to be shown in the exhibition.)
__________________________________________________
6:Anni Emilia Leppala
 Finland; born in 1981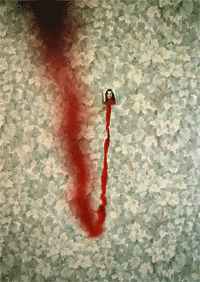 Anni Emilia Leppälä
from the series Seedlings, 2005
Leppala, currently in a master's program at the University of Art and Design Helsinki, has, since 2004, received several prizes and grants from the Finnish Cultural Foundation. Extraordinary private works without a word of explanation reveal the inner world of the artist herself. "To me, photography is giving an obscure, momentary flash of light visible form."
__________________________________________________
Part 2: Myself in Society
 Site: Exhibition Gallery 2F
With the arrival of the digital age and the penetration of the Internet, making the self public has become extremely easy-and the ease of making unintended self revelations has also become an issue. Moreover, while much that is personal is widely distributed, a countervailing tendency to be fixated on making about highly anonymous connections or connecting only with a highly restricted set of people-a phenomenon had has been labeled "cell formation" by the individual-has also emerged. How to replace personal themes with eternal themes-that indeed is the most "contemporary" theme for all of us alive today.
7:Ai-ran Kang
 Korea; born in 1960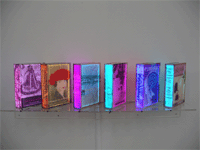 Kang, Ai-ran
Interactive Book, 2003 , from the series Digital Book Project
Keumsan Heiri−with Books−Lighting Books Countesy of Yumiko Chiba Associates
Kang, who has studied in Japan, primarily shows installations in which she creates "libraries" that are her very own, yet suited to function as public spaces as well. Her book-objets, glowing with a blue-white light, command the eyes of those viewing them. "Books symbolize my identity," Kang has stated. (A new work is to be shown in the exhibition.)
__________________________________________________
8:Nicole Tran Ba Vang
 France; born in 1963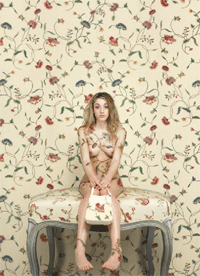 Nicole Tran Ba Vang
from the series "Autumn/winter 2003/04 Collection", 2003 ,Anne-Claire
Tran Ba Vang studied fashion design before shifting into visual art, attracted to the peculiar and fascinating relationship between the body and clothing. Since 2000, she has been releasing twice-yearly collections of her work, modeled on the Paris couture collections. She received the Jeune création photo prize from the Maison Europénne de la Photographie in 2000. "Nude is never naked. We always are covered with the clothing of our bodies."
http://www.tranbavang.com
__________________________________________________
9:Jacqueline Hassink
 The Netherlands; born in 1966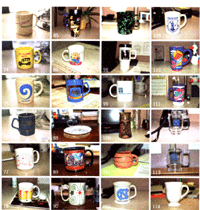 Jacqueline Hassink
Personal Coffee Cups, USA, (in detail), 2000,
from the series Mindscapes
Hassink, a graduate of the Trondheim Academy of Fine Art, resides in New York. The mugs that people bring into their corporate workplaces, which are public places, express the individuality of the persons working there. Hassink asked the mugs' owners how many years they had been using them and how many cups they drink a day. "I wished to map corporations by photographing individuals' mugs."
__________________________________________________
10:Mikiko Hara
 Japan; born in 1967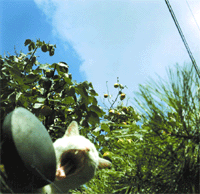 Hara's gaze addresses ordinary, everyday street scenes and the actions of the defenseless people she presents. Her view seems to tease and stimulate with the extraordinarily human emotions that well up from interior and exterior terrains. "The feelings that I must look and must not look instantly struggle with each other."
__________________________________________________
11:Szabó Sarolta
 Hungary; born in 1975

Szabó Sarolta From the series Experimental Housing Estate, 2002-03
A graduate of the Hungarian Academy of Applied Arts, Sarolta is currently in a teacher training course. The Experimental Housing Estate series, created by combining photographs and plans on the computer, is composed of entirely fictional narratives. "A fear of isolation and anonymity is part and parcel of urban life for those who dwell in high density housing in major cities."
__________________________________________________
12:Masanori Ikeda
 Japan; born in 1978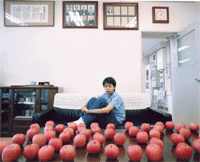 Masanori Ikedafrom the series The Photo Studio of
A Holiday, 2004
Ikeda, born into a family operating a commercial photography studio, ran away from it in search of new encounters and stories. His unique gaze transforms his friends and children he has met during his quest into the protagonists of stories. "To create a commemorative photograph style: that is my primary objective." (A new work is to be shown in the exhibition.)
__________________________________________________
Part 3: Adventures in the Every Day
 Site: Exhibition Gallery B1
This part of the exhibition considers photography beyond the realms of photographic style and art, in the broader realms of culture and daily life. The development of digital photography and of communications networks are significantly changing the ways photography and contemporary lifestyles interact. Photography is becoming less a specialized skill than, as an extension of the senses, a communication tool and visual symbol, sometimes adding richness to individuals' everyday worlds and sometimes unconsciously restricting it. None of the artists whose work is included in this part of the exhibition self identify as "photographers." They are not specialists in photography in the narrow sense and are unconscious of issues such as style and finished works of art; they allow their curiosity free rein, to direct their eyes to the world before them and communicate with others in a manner that appears, at least at first glance, playful. Photography still has great scope as a tool for transforming quotidian everyday life into an adventure. It is in that domain that we may see most vividly the shape of a free, "alternative" theory of photography and the form that the private takes in contemporary life. Here we introduce works or projects that deftly express such truths about photography in the "zero decade."
13:second planet
 Japan; an artist unit formed in 1995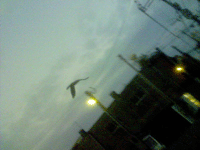 Second Planet
Project Crow (tentative) 2006
The artist unit second planet , formed by Keiichi Miyagawa and Hisao Sotoda in Kita Kyushu in 1995, has planned and carried out a variety of art projects using urban spaces. In 1997, it opened Gallery Soap, and has engaged in a variety of collaborative projects with artists, musicians, and others in Japan and abroad. In addition to its work in the arts, the second planet unit has held conferences, exhibitions, and workshops involving people working in a wide range of fields, including sociologists, philosophers, urban planners, and art critics, at venues including Gallery Soap, the Nagoya University of Arts, the Kobe Art Village Center, and the Fukuoka Prefectural Museum of Art.