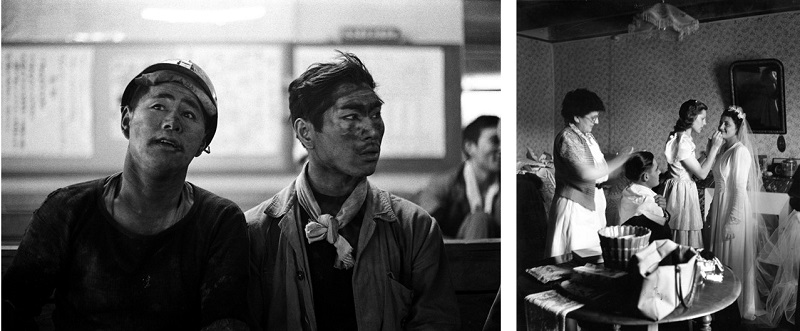 Left: Motohashi Seiichi 
Haboro Coal Mine Haboro, Hokkaido
from
The Coral Mine
1968 ©Motohashi Seiichi
Right: Robert Doisneau 
Four Hairpins, Saint-Sauvant
, 1951 ©Atelier Robert Doisneau / Contact
2F
Motohashi Seiichi & Robert Doisneau
Chemins Croisés(Narrative Passages)
Jun. 16—Sep. 24, 2023
Jun. 16

—

Sep. 24, 2023
Closed Mondays (except when Monday falls on a holiday, in which case the museum is open and closed the following day)
Admission:Admission:Adults ¥800 (640)/College Students ¥640 (510)/High School and Junior High School Students, Over 65 ¥400 (320) *Prices in parenthesis apply to groups of 20 or more. (Reservation is required.) , admission is free for grade school children or younger; junior high school students living or attending schools in the Tokyo metropolitan area and holders of Japan's disability identification cards (shogaisha techo) together with two caregiver.
It is recommended that you use the online ticket system (timed entry reservation.)



click here for online ticket system: Webket



This exhibition is features Motohashi Seiichi (1940–), Japanese photographer and documentary filmmaker, and Robert Doisneau (1912–1994), one of France's most celebrated photographers whom Motohashi admires. While tracing their paths, the exhibition will present the gaze of the two photographers who resonate with each other beyond time and region.
Born in Tokyo, Motohashi has documented the society in turmoil and the people living there through photography and film for over fifty years. On the other hand, Doisneau had always captured with his sense of humour the joy around him, using Paris and its suburbs, where he was born, as the backdrop. Although the two photographers were born in different times and places, they have coincidentally made outstanding reportages on the same subjects, such as coal mines, circuses, and markets. Having experienced the turmoil caused by World War II, they both captured the strength and richness they found in the humble but hardworking lives of people, along with the scenes that are slowly disappearing.
This exhibition, organised in special collaboration with Atelier Robert Doisneau and Pole Pole Times, features a diverse selection of Motohashi's work from his over fifty-year career and a fine selection from Doisneau's more than 450,000 photographs, including previously unpublished works and the collection of Tokyo Photographic Art Museum. This exhibition is also a result of an encounter between a similar idea from Clémentine Deroudille, Doisneau's granddaughter, Motohashi as the exhibiting artist, and the museum's program.
In today's world of neverending confrontation and conflict, we hope this exhibition will provide an opportunity for us to reflect on the richness of life through the passages created by the two photographers, as they have engaged with reality and society with their kindness, sense of humour, and gaze born out of their boundless love and curiosity towards humanity.

It is my deep love for my subjects that enables me to take their photographs. ——Robert Doisneau

Photographs and videos are ideas and imaginings about your subject. ——Motohashi Seiichi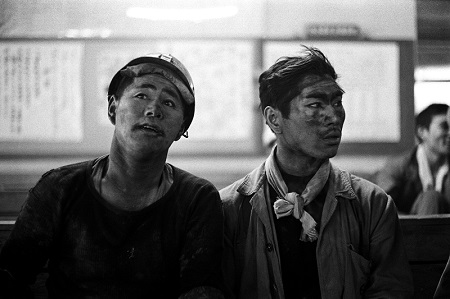 Motohashi Seiichi, Haboro Coal Mine Haboro, Hokkaido from The Coral Mine, 1968 ©Motohashi Seiichi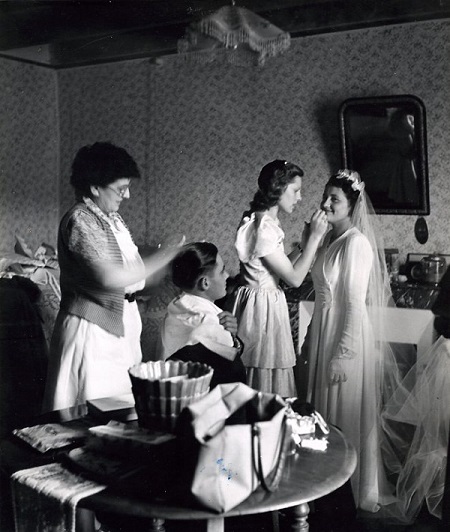 Robert Doisneau, Four Hairpins, Saint-Sauvant, 1951 ©Atelier Robert Doisneau / Contact

Chapter
1|The Origin
2|The Theatre and in Between the Acts
3|Streets, Theatres, and Plazas
4|Narratives of the People
5|Towards a New Narrative
Total|241 works
Motohashi Seiichi 130 works, Robert Doisneau 111 works
About the artists
Motohashi Seiichi|1940–
Born 1940 in Tokyo. Motohashi was awarded the Taiyo Prize in 1968 for his series Yama (The Coal Mine), after which he would spend his days in and document such settings as the circus, Ueno Station, and Tsukiji Fish Market. In 1998 he received the Domon Ken Award for Nadya's Village, one of several works chronicling the aftermath of the Chernobyl nuclear disaster; and in 2017, the Higashikawa Award for his solo exhibition Sense of Place (Izu Photo Museum, 2016). His documentary films include Alexei and the Spring" (2002), A Thousand-Year Song of Baobab (2009), and Take Your Time Arayashiki (2015), his filmmaking recognized with the Berliner Zeitung Readers' Prize and the International Cine Club Prize at the Berlin International Film Festival, and Best Film at the Saint Petersburg International Film Festival. Recent releases: Belarus Revisited 2017 (2018) and Ningen no yogoshita tochi darou, doko e ike to iu no ka (2021).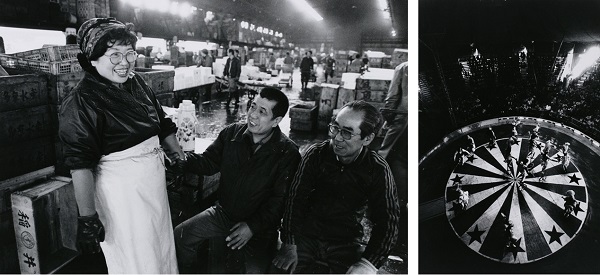 Left:Tsukiji Market, Tokyo, 1984, Right: Kinoshita Circus Futako-Tamagawa-en, Tokyo, 1980 ©Motohashi Seiichi

Robert Doisneau|1912–1994
Born 1912 in the suburban Paris commune of Gentily, Doisneau studied lithography at the École Estienne, later becoming an assistant the photographer André Vigneau. After working as a photographer for the automobile manufacturer Renault, he launched his practice as a freelance photographer in 1939. Lauded in particular for his images capturing everyday life in Paris, he was featured in the 1951 exhibition Five French Photographers, along with Henri Cartier-Bresson and Brassaї, held at the Museum of Modern Art, New York. Among his many awards are the Niépce Prix (1956) and Grand Prix National de la Photographie (1983). He passed away in 1994 at the age of 82. His recent exhibitions of his work include Robert Doisneau / La Musique / Paris (Bunkamura The Museum, 2021).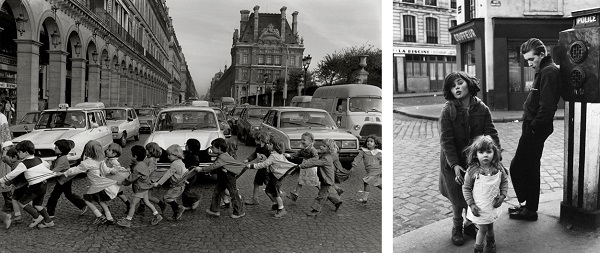 Left: Chain on Rue de Riivoli, 1978, Right: The Kids on Place Hébert, 1945 ©Atelier Robert Doisneau / Contact
*The schedule is subject to change. Any further changes will be announced.
Organized by the Tokyo Photographic Art Museum, operated by Tokyo Metropolitan Foundation for History and Culture
Under the auspices of Embassy of France/Institut français du Japon, J-WAVE 81.3FM
Supported by The Kao Foundation for Arts and Sciences
Special Collaboration with Atelier Robert Doisneau, Contact Co., Ltd., Polepoletimes Co., Ltd.