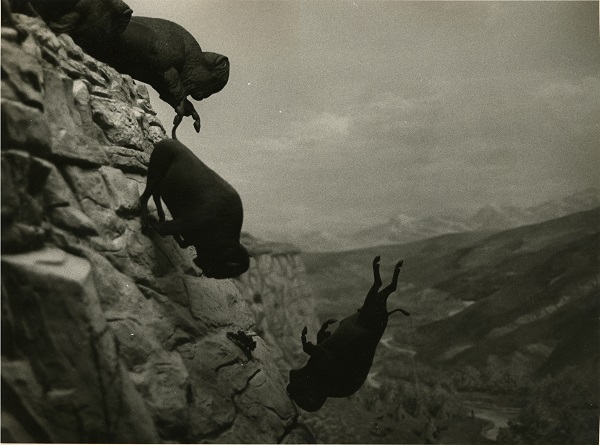 David Wojnarowicz 《Untitled(Falling Buffalo)》1988-89
Courtesy of the Estate of David Wojnarowicz and P.P.O.W Gallery, New York NY
2F
love's body
art in the age of AIDS
Oct. 2—Dec. 5, 2010
Oct. 2

—

Dec. 5, 2010
Closed Monday(if Monday is a national holiday or a substitute holiday, it is the next day)
Admission:Adults ¥800/College Students ¥700/High School and Junior Hight School Students, Over 65 ¥600
The 'Love's Body - Rethinking Naked and Nude in Photography' exhibition which was held at the Tokyo Metropolitan Museum of Photography from November 1998 to January 1999 was received with great acclaim. It demonstrated that in addition to acting as symbols of eros or sex, nude photography can be used as a tool to reassess the visual dynamics of relationship or subjectivity to present new possibilities and meanings of the body. The sequel to this, 'Love's Body 2, sexuality in the age of AIDS', will aim to present more clearly the problems created by contemporary representations of the body.

AIDS is a problem common to every country throughout the contemporary world. From the late eighties to early nineties AIDS became more than just an incurable disease that took the lives of numerous artists, it also provided photography and art with the opportunity to carry out a fundamental reassessment of social problems such as prejudice or discrimination. In their work, the many artists who were infected with AIDS confronted not only the disease itself, but also these 'social sicknesses', treating them as personal issues and creating numerous works that forced us to address these problems. Even today, new possibilities of expression that force us to consider transformations of sexuality or expressions of others, representations of the body or questions of art and politics continue to be produced. This exhibition will present works that are powerful enough to have influenced aspects of art and photography while reappraising and redefining their meaning.

Artists:
AA Bronson (1946- )
Born in Vancouver, Canada. In 1969, Bronson formed the artists' group General Idea with Jorge Zontal (1944-1994) and Felix Partz (1945-1994) in Toronto. Until 1994, when Zontal and Partz both died of AIDS, the group created a body of work distinguished for its potent criticism of commercialism and the media (and beginning in 1987, dealt extensively with AIDS), while working in a wide range of genres including performance, video, photography, painting, sculpture, and publishing in the form of File magazine (1972-1989), a parody of Life. During their 25-year career, the artists were invited to hold 123 solo exhibitions at international venues; and to take part in 149 group exhibitions, including the Paris, Sydney, São Paulo, and Venice Biennales, and documenta. Following the death of Zontal and Partz, Bronson began working alone. Dealing with themes such as death, loss, and healing, he is active internationally, holding solo exhibitions at the Succession in Vienna (2000), the Museum of Contemporary Art, Chicago (2001), and the MIT List Visual Arts Center (2003). He currently resides in Toronto and New York.

Akira the Hustler/Cho Yukio (1969- )
Born in Tokyo. Completed a master's degree in painting research at Kyoto City University of Arts. Cho began a wide range of activities related to HIV/AIDS in 1993. In 2000, he began showing his work under the name Akira the Hustler, and was invited to participate in group exhibitions in Tokyo, France, and Berlin. In addition to his work as an artist, producing, for example, a series of condom packages with other artists which were then distributed to gay bars and other venues in the Tokyo area, Cho is an activist who attempts to build bridges between the media and NPOs, a researcher at the Japan Foundation for AIDS Prevention, and a staff member of community center akta. In 2004, he launched the Living Together Project with the NPO Place Tokyo. He continues to actively convey the realities of people who are HIV positive and their loves ones.

Felix Gonzalez-Torres (1957-1996)
Born in Guáimaro, Cuba. In 1971, Gonzalez-Torres lived temporarily in Madrid, Spain, and moved to Puerto Rico. After beginning to create art at the University of Puerto Rico, he received a scholarship to Pratt Institute in Brooklyn in 1979 and enrolled in the independent study program at the Whitney Museum. Graduating from Pratt in 1983, he earned his MFA from the International Center of Photography and New York University in 1987. Around the same time, he also became involved in an art group called Group Material. Though his career as an artist was limited to a short period which ended with his death in 1996, Gonzalez-Torres created an astounding body of work. Participating in the Whitney Biennial (1991), a project at MoMA (1992), and the Sydney Biennale (1996), holding solo exhibitions at the Museum of Contemporary Art, Los Angeles, and the Hirshhorn Museum in 1994, and a retrospect at the Guggenheim Museum the following year, Gonzalez-Torres was active all around the world. He died of AIDS-related causes on January 9, 1996 in Miami, Florida. Gaining further recognition after his death, solo exhibitions of Gonzalez-Torres' work were held at the Sprengel Museum in Hannover, Germany (1997-1998), and the Serpentine Gallery in London (2000), and in 2007, he became only the second artist (the first was Robert Smithson) to posthumously represent the U.S. at the Venice Biennale.

Hervé Guibert (1955-1991)
Born outside of Paris in Saint-Cloud, Hauts-de-Seine. In 1977, while covering film for Le Monde, Guibert published the novel La Mort propagande and while concentrating on writing also began producing photographs. In 1983, L'Homme blessé, a screenplay he wrote with Patrice Chéreau, was made into a film, and received a César Award. In 1988, he was notified that he had contracted AIDS, and in 1990, Guibert caused a sensation when he made his condition public in the autobiographical novel À l'ami qui ne m'a pas sauvé la vie. After attempting to commit suicide on December 12, 1991, he was taken to a hospital in suburban Paris, where he died on December 27. Many of Guibert's novels have been published in Japanese translations, including Fou de Vincent, Le protocole compassionnel, Mon valet et moi, Vice, L'homme au chapeau rouge, Le Paradis, L'Image fantôme, Les Chiens, and Cytomégalovirus. During his lifetime, Guibert was also acclaimed as a photographer, holding solo exhibitions and publishing collections of his work. After his death, solo exhibitions were also held at the Slought Foundation in Philadelphia and in Lausanne, Madrid, and Brussels.

Sunil Gupta (1953- )
Born in New Delhi, India. Gupta moved to Montreal with his parents in the late 1960s. In the 70s, he relocated to New York and while studying photography at the New School for Social Research, became involved in the movement to stop discrimination against gay people. He then moved to London, where he continued studying photography at the Royal College of Art. While pursuing photography, Gupta worked as a writer and curator, gaining international recognition for a collection of criticism he edited with Tessa Boffin called Ecstatic Antibodies: Resisting the AIDS Mythology (1990), and autobiographical works dealing with race and homosexuality such as Pictures from Here (2003) and Wish You Were Here: Memories of a Gay Life (2008). Since being diagnosed HIV positive in 1995, he has remained active in the fight against homophobia and discrimination against people with HIV. A Canadian citizen, Gupta currently lives in London and Delhi.

Peter Hujar (1934-1987)
Born in Trenton, New Jersey. In 1946, Hujar moved to Manhattan, and later began working as a portrait photographer for magazines and advertisements. Opening his own studio in the late 60s, he photographed a variety of people associated with New York's East Village, including Candy Darling, his lover David Wojnarowicz, and Susan Sontag. In 1976, Hujar published a collection of work called Portraits in Life and Death. He died of AIDS-related complications in 1987. Although Hujar had a great influence on photographers such as Robert Mapplethorpe and Nan Goldin, during his lifetime, he was known primarily in the East Village. In 1994, however, a large-scale retrospective titled "Peter Hujar: A Retrospective" was held at the Stedelijk Museum in Amsterdam, Holland and the Winterthur Museum in Switzerland, and a collection of his photographs was also published. In 2008, following another retrospective, which included his early works, at the ICA in London, Hujar came to be recognized as one of the most important American photographers of the 70s and 80s.

David Wojnarowicz (1954-1992)
Born in Red Bank, New Jersey to a sailor and his young Australian wife. Wojnarowicz's parents divorced when he was two. Dropping out of high school in New York at 16, he began living on the street. He returned to the East Village in 1978, and joined a post-punk band called "3 Teens Kill 4" while working in a club. Wojnarowicz also began creating a variety of art works including films, paintings, photographs, illustrations, performances, and texts. In 1981, he met Peter Hujar, who became his lover and teacher. Wojnarowicz's work was included in the Whitney Biennial in 1985, and in the late 80s, after being diagnosed HIV positive, he not only began producing numerous pieces related to sexuality and prejudice as an AIDS activist but also became actively involved in legal and political activities. In 1992, he died of AIDS-related complications. The artist's work is collected in many major museums, including MoMA and the Whitney Museum, and a retrospective of his work, titled "Fever: The Art of David Wojnarowicz," held at the New Museum in 1999 generated a great deal of interest.

William Yang (1943- )
A third-generation Chinese born in North Queensland, Yang moved to Sydney in the late 1960s. After first working as a playwright, he started to make a name for himself as a freelance photographer. In a 1977 solo exhibition, Yang caused a sensation with frank diary-like works dealing with Sydney's gay scene, in which the artist was also an active participant. Creating numerous works such as Sadness (1996), Friends of Dorothy (1997), and China (2008) with themes related to his Chinese roots and identity, gay sexuality, and AIDS, Yang is internationally acclaimed and has shown his works throughout the world. A 1989 work which combined photography and performance in a monologue/slide show format has become synonymous with Yang's approach as an artist. In 1993, he was awarded the 9th Higashikawa Prize for Overseas Photographers, and in 1998, received an Honorary Doctorate of Letters from Queensland University. Yang currently resides in Sydney.