B1F
Haptic Literature
intersection of text/media art
Dec. 15, 2007—Feb. 17, 2008
Dec. 15, 2007

—

Feb. 17, 2008
Closed Monday(Tuesday if Monday is a national holiday)
Admission:Adults ¥500(400)/College Students ¥400(320)/High School and Junior Hight School Students, Over 65 ¥250(200)
※December 28, 2007 10:00-18:00
※January 2 to 4, 2008 New Year's Special Opening Days 11:00-18:00
__________________________________________________

Tokyo Metropolitan Museum of Photography is pleased to present Haptic Literature?intersection of text/media art, an exhibition that focuses on the points of contact between literature and the visual or media arts. Introducing collaborative works by contemporary writers and media artists, this exhibition addresses the act of visualizing literary worlds, a task intrinsically left to the reader's imagination, and provides a variety of modes for those worlds' visual expression.

The exhibition is composed of three parts: (1) listening to and looking at texts, (2) reproduction of scenes depicted in novels, and (3) homage to classical works. With the cooperation of Gunzo, a monthly literary magazine published by Kodansha, and NHK Enterprises, collaborations between writers and artists have created new projects for the exhibition, which will also include artists' talks and special publications.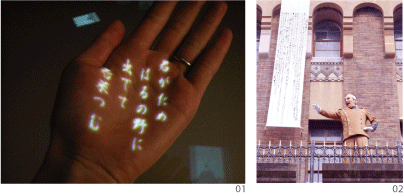 ※reference image
01:Information Rain, Hiroshi Homura and Yoko Ishii (NTT Cyber Solutions Laboratories), 2007.
Homura, considered the standard-bearer of contemporary tanka poetry, describes the subtleties of love in essays and tanka. Here, using the palm interface created by Yoko Ishii, one of his works is projected onto the palm of the hand, where the glyphs change form, fuse together, and start to move.
02:A Requiem:Mishima 1970.11.25-2006.4.6, by Yasumasa Morimura (2006).
Yasumasa Morimura plays novelist Yukio Mishima, giving a speech just before committing suicide.
03:New Project, by Keiichiro Hirano+Yasuto Nakanishi.
Hirano's work includes visual and plastic experimentation, as in his Anata ga, inakatta, anata (You didn't exist, you). Nakanishi's work, Narrative Hand, connects virtual reality with destructive impulses. This new collaborative project combines Hirano's world with Nakanishi's technology to appeal to touch and cognition.
04:TypeTrace, by dividual (Takumi Endo+Dominick Chen+Shinya Matsuyama).
Imagine a work by the novelist Otaro Maijo, who never appears in public, a work never recorded and that melts away like the finest snow. What could that process be? dividual will reveal it with their TypeTrace, which transcends time and space to share texts and processes.
05:Tool's Life, the Hidden Nature of Tools, by Motoshi Chikamori++Kyoko Kuno (2002), from the collection of the Tokyo Metropolitan Museum of Photography.
Light and shadow, reflected images: in this new interactive work, Chikamori++Kuno (creators of Tool's Life, the Hidden Nature of Tools) delicately depict the world of the poems and novels of Hisaki Matsuura, including his new novel Kawa no Hikari (Light on the River).
06:Tanizaki Rhythm, by Kazuma Morino.
Motion graphics and video by Kazuma Morino, inspired by novelist Jun'ichiro Tanizaki's In'ei Raisan (translated as In Praise of Shadows).
07:Seven Questions, by Hiromi Kawakami + Sachiko Kodama (2007-2008).
08:Morpho Tower, by Sachiko Kodama (2006), photographed by Yozo Takada.
Morpho Tower, by Sachiko Kodama, in the artist's collection
Work by Kawakami, who is known for mingling the quotidian and fantasy worlds, work from Kodama's Morpho Tower series of organic sculptures using a magnetic fluid, and sound are combined in an experimental collaboration.

※reference image