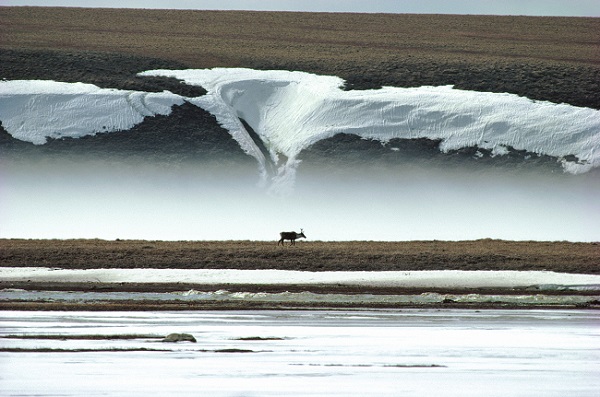 Spring in the arctic circle, lost amidst herds of caribou. ©Naoko Hoshino
The Tokyo Photographic Art Museum will adhere to relevant guidelines and take necessary measures to prevent the spread of the novel coronavirus. We ask for your understanding regarding inconveniences for this time. [Notices to Visitors]
B1F
Hoshino Michio:
The Eternal Journey
Nov. 19, 2022—Jan. 22, 2023
Nov. 19, 2022

—

Jan. 22, 2023
Closed Mondays (except when Monday falls on a holiday, in which case the museum is open and closed the following day), New Year's holidays *Dec. 28, Jan. 2 and Jan.3 are temporary opening days.
Admission:Adults ¥1,000(800) / College Students¥800(640) / High School and Junior High School Students, Over 65¥600(480) *The prices in parentheses ( ) are discounted prices for holders of our movie tickets, holders of our annual passport (for the holder and one accompanying person), residents in Meguro City, and various card members. Please refer to Visitor Information for details on our discounts. Discounts cannot be combined with other discounts. *Admission is free for children in elementary school or younger; junior high school students living or attending schools in the Tokyo metropolitan area; holders of Japanese disability identification cards (shogaisha techo), along with up to two caregivers.
It is recommended that you use the online ticket system (timed entry reservation.)



click here for online ticket system: Webket

Michio Hoshino had always been fascinated by the northern wilds from the time he was a child and moved to live in the far northern expanse of Alaska. Even now, more than 25 years after he passed away, he still attracts many fans with his photographs and his beautiful writings of nature and animals that touched his heart. Through encounters with the Arctic wilderness, its wildlife, its people, and the myths passed down through generations, Hoshino deepened his thoughts and grew as a photographer. 
This exhibition features a comprehensive view of his work with precious documents, starting with his records from the time he was twenty and first setting foot in an Alaskan village, up to the photographs he took in the Kamchatka Peninsula of Russia just prior to his sudden death.
The exhibition reorganizes the 2012 exhibition of his work at the Fujifilm Square, Tokyo while exploring his world in greater detail by adding major works. From his unfinished works, we hope that you will be inspired by this new journey of Hoshino who continually pursued the connection between nature and man.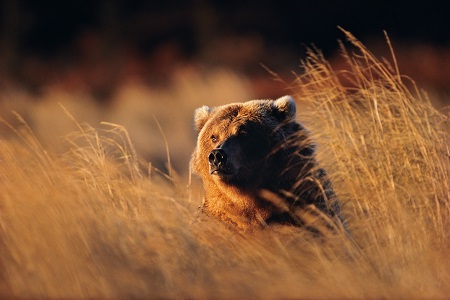 Grizzly hiding in the grass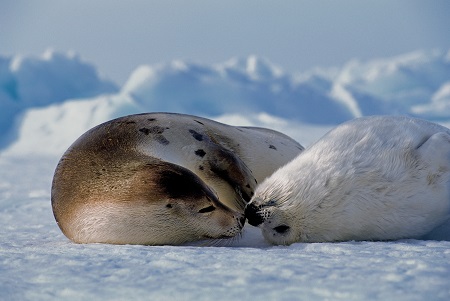 Harp seal mother and pup. Gulf of St. Lawrence, Canada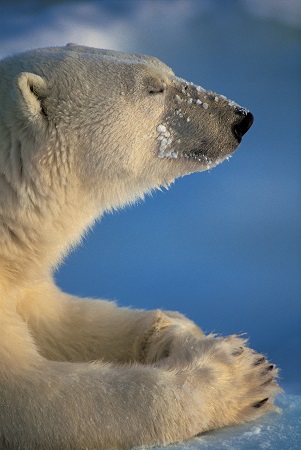 Polar bear. Hudson Bay, Canada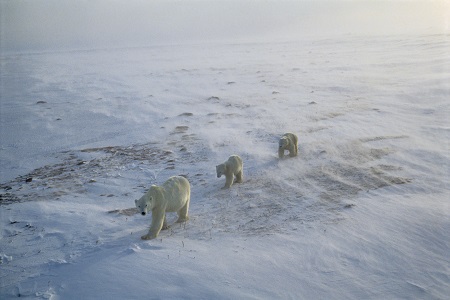 Polar bear mother and cub 'Nanook' with sibling walking on the ice field in a blizzard. Hudson Bay, Canada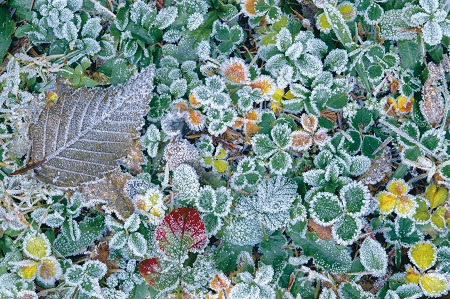 First frost on wild strawberries



Skunk cabbage blooming in the forest and moose antlers covered with moss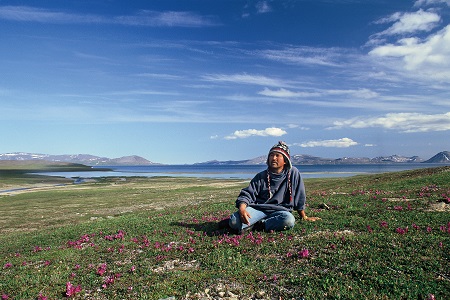 Michio Hoshino. Chukchi Peninsula, Russia. 1996

All photographs taken by Michio Hoshino. ©Naoko Hoshino

Hoshino Michio
Born in Chiba prefecture in 1952, Michio Hoshino was captivated by a photograph of an Eskimo village he saw when he was 19 years old, leading him to write a letter to the mayor of the village. The year he turned 20, he spent about 3 months that summer living in Alaska. Upon returning to Japan, he made up his mind to become a photographer. After graduating from Keio University, he worked for two years as an assistant to wildlife photographer Kojo Tanaka. In 1978, he enrolled at the University of Alaska Fairbanks, majoring in wildlife management. Since then, he took photographs and wrote essays about Alaska with subjects on nature and its people. In August of 1996, he was attacked and killed by a brown bear while he was documenting the Kamchatka Peninsula, Russia. He is a recipient of the Anima Award (1986) and the Kimura Ihei Award (1990).
https://www.michio-hoshino.com

Twitter official account:
https://twitter.com/hoshinoyukyu
hoshinoyukyu Instagram official account:
https://www.instagram.com/hoshinoyukyu
Facebook official account:
https://www.facebook.com/hoshinoyukyu

Inquiries:
info@crevis.co.jp

*The schedule is subject to change. Any further changes will be announced.

Organizer: Crevis Inc.
Co-organizers: Tokyo Metropolitan Foundation for History and Culture, and Tokyo Photographic Art Museum
Contributor: Michio Hoshino Office
Supported by Meguro City Office