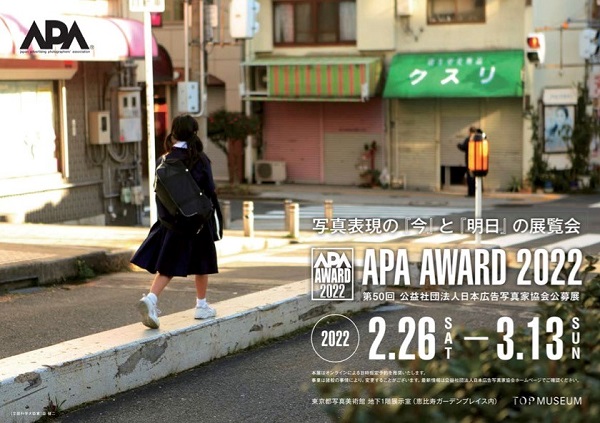 B1F
APA AWARD 2022
50 Public Exhibition of Japan Advertising Photographers' Association
Feb. 26—Mar. 13, 2022
Feb. 26

—

Mar. 13, 2022
Closed Mondays (except when Monday falls on a holiday, in which case the museum is open and closed the following day)
Admission:Adult ¥500 / (High school students and older) Students, Over 65 ¥300 *Admission is free for junior high school children or younger, and holders of Japan's disability identification cards (shogaisha techo) together with two caregiver.
It is recommended that you use the online ticket system (timed entry reservation.)

click here for online ticket system: Webket
The APA Awards have been held since 1961 and have produced many famous photographers. "Advertising work section" is selected based on advertising photographs that have actually been distributed. "Photographic work section" is a photo competition where you can compete for free ideas and photographic expressionds according to the theme. The theme for this year is "Shashin". The meaning of "Shashin" is apicture. we will introduce winning works in the "Photographic work section".
*The schedule is subject to change. Any further changes will be announced.
Organized by Japan Advertising Photographers' Association (APA)
Co-organized by Tokyo Photographic Art Museum (operated by Tokyo Metropolitan Foundation for History and Culture)
Patronage by Ministry of Economy, Trade and Industry, Agency for Cultural Affairs
Sponsorship: OM Digital Solutions Corporation Canon Marketing Japan Inc. GENKOSHA Co. Sony Corporation DIAMIC Co., Ltd. Nikon Imaging Japan inc. FUJIFILM Imaging Systems Co., Ltd. Frameman Co., Ltd.
Cooperation: corporate support member companies