B1F
Quest for Vision vol.4
Beyond the Naked Eye
Dec. 13, 2011—Jan. 29, 2012
Dec. 13, 2011

—

Jan. 29, 2012
Closed Monday(if Monday is a national holiday or a substitute holiday, it is the next day)
Admission:Adults ¥500/College Students ¥400/High School and Junior Hight School Students, Over 65 ¥250
Since 2008, The Tokyo Metropolitan Museum of Photography has featured an series of annual exhibitions based on concepts derived from its moving image department; the Quest for Vision series. One of each of these five themes—Imagination, Animation, 3D Vision, Expansion and Reduction, and The Image as Record—are selected each year, as subjects for an exhibition combining the work of contemporary artists with work from the Museum's permanent collection.

This year's theme, Expansion and Reduction, explores the expansion of the observable, following the changes in our world view and the popular imagination of the cosmos. Historically, developments in scientific technology and communications media have always changed the ways in which we understand the world. In today's information society, it's changing still. This exhibition follows not only historical and current perspectives, but also presents works which offers new points of reference about how we might come to see the world in the future.


天動説
地動説

Regiomontanus
Epytoma in almagesti Ptolemei
Venice, 1496
Kyoto Sangyo University Library

Galileo Galilei
Dialogo sopra i due Massimi Sistemi del Mondo,
Tolemaico e Copernicano (1st edition)
Florence, 1632
Osaka Science Museum










・Telescope Unknown n.d.
・Microscope Unknown n.d.
・William Benjamin CARPENTER
The Cross Section of a Spine of a Sea Urchin 1848-49
・William Benjamin CARPENTER
The Cross Section of a Spine of a Sea Urchin 1848-49


KOSAKA Jun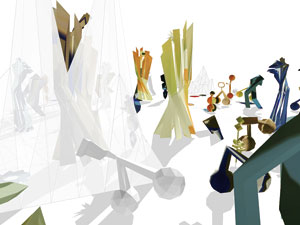 《VIT (Ver.1.5)》 Kosaka Jun 2009

KOSAKA Jun
Born in 1966. Kosaka received his B.S. from the Department of Architecture, Faculty of Engineering, Osaka University in 1990 and M.A. from the Department of Architecture, Graduate School of Fine Art, Tokyo University of the Arts in 1992. Works between art, architecture, graphic and website design. Worked as a bookbinder/cover artist for SF Magazine (Hayakawa Publishing Corporation) from 1994 to 2000. Regular visual contributor to the Asahi Shimbun from 2000 to 2004, and from 2010 to present. Work included as permanent installations in the Okinawa City Wonder Museum in 2004, and at Sony Explora Science (Beijing) in 2006. Participated in the National Astronomical Observatory of Japan's Four-dimensional Digital Universe Project (4D2U), and in the production of the One-per-Household Diagram of the Universe 2007 project by the Ministry of Education, Culture, Sports, Science and Technology, Japan. In 2007 awarded the Bronze Cyber Lions Prize at the Cannes Lions International Festival of Creativity. Published 10 Lessons for Falling in Love with Space (co-author) from Tokyo Shoseki Co., Ltd. in 2010.
http://www.jun.com/


doubleNegatives Architecture [dNA]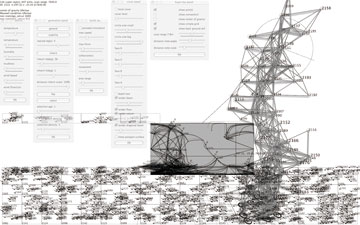 《corporate eye》doubleNegatives Architecture (2009 image)
doubleNegatives Architecture [dNA]
Established in 1998 by architect ICHIKAWA Sota, dNA is a flexible network of collaborators from various disciplines working to propose distinctive architectural visions in a variety of media and platforms. Corpora, for example, is an on-going project series begun in 2005, which was presented as the installation Corpora in Si(gh)t in 2007 at the Yamaguchi Center for Arts and Media (YCAM), was then invited to show in the Hungarian Pavilion at the Venice Biennale of Architecture in 2008. To date, differing versions from the series have been presented in six cities around the world. Other important dNA works include the architectural interiors Algorithmic Wall for Tama Art University and a spatial construction the BAU advertising office, and MU: Mercurial Unfolding, a collaborative installation with artist NAKAYA Fujiko.
http://doublenegatives.jp/
ICHIKAWA Sota (architect)
Born in 1972. Principle, doubleNegatives Architecture [dNA]. In 1996 Ichikawa received his M.F.A. from the Department of Architecture, Tokyo University of the Arts. In 1997 he participated in the Canon ARTLAB7 "IO_DENCIES – questioning urbanity" exhibition with German art group Knowbotic Research as their architecture and urban research collaborator. Gravicells, a 2004 co-production with artist MIKAMI Seiko, was presented in 12 cities around the world, and received an Honorary Mention, Interactive Art category, Prix Ars Electronica, 2005. Collaborates with artist KUBOTA Akihiro under the name The Cellular Automaton Band. Part-time lecturer at Tokyo Zokei University from 2001 to 2004. Part-time lecturer at Tama Art University from 2001 to 2009.
NARUKAWA Hajime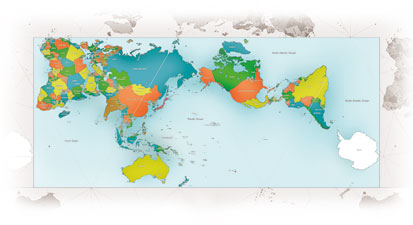 《AuthaGraph World Map》 Narukawa Hajime 2009
NARUKAWA Hajime
Born in 1971. Architect, structural engineer. Principle, AuthaGraph Co., Ltd. Completed studies at the Shibaura Institute of Technology, and the Tokyo University of the Arts. Lecturer at the Arnhem Academy of Architecture. Employed at VMX Architects, and Sasaki Structural Consultants before establishing AuthaGraph in 2009. In June of 2011 presented Geo-Cosmos, Geo-Palette, and Geo-Scope all designed by Narukawa and developed under his supervision at the National Museum of Emerging Science and Innovation (Miraikan). Currently lecturing at Kuwasawa Design School, and Tokyo Zokei University. Member of the Japan Cartographers Association. Advisor, Miraikan.
http://www.authagraph.com/
Lecture
Special Talk Series

Dec. 25 (Sun) 15:00~16:30 
Jan. 8 (Sun) 15:00~16:30 
Jan. 22 (Sun) 15:00~16:30 


Special live

Jan. 7 (Sat) 16:00~17:30


Gallery tours in Japanese

Dec. 16 (Fri) 14:00~
Jan. 6 (Fri) 14:00~
Jan. 20 (Fri) 14:00~