Official Site → http://hanainochi.com/

Contact: Image10:090-3802-2760
Aug. 18

—

Aug. 31, 2018
Closed Monday
Running Time:18:30
Admission:Adults ¥1,800/College Students and High School Students ¥1,500/Junior High School Students and over 60 ¥1,100
Is this "Ikebana" !?
A Mass of compressed bright red petals is thrown and piled on white porcelain object.
Piling up muddy tulip petals with a trowel…
Is this "Ikebana"? !
Or a mass of compressed red petals tied up in ropes. Tulips petals are decomposing like a deserted island. Is this "Ikebana"?
Physical handicap and rebellious spirit
Nakagawa suffered from spinal caries since his youth, developed a rebellious spirit together with his bent back. He doubted rules of Ikebana school and sought to expose life of flowers, so he slammed the withdrawal notification to the biggest school, Ikenobou. Sofu Teshigahara from Sogetsu School describes "a horrific man came to commit suicide with flowers", when Nakagawa left his hometown, Marugame to come to Tokyo. Nakagawa, the lone Ikebana artist, denied schools and did not take disciples, lived in poverty and continued to face life and death of flower.
Arranging lives of flower
Pieces beyond imagination were born out of dialogue and fight with flowers and fear of flowers. "Hanabozu", placing 900 carnations upside down in a glass wear, bright red flower liquid seeps into Japanese paper, "Blues", using Chinese Cabbage in art and "Tulip Alien", using decomposing pistil and stamen etc… Many of his shocking works express vitality of flower. The secrets to the birth of his creations are revealed through his diaries and words.
"Sky Sange" One million petals fall from the sky
"Sky Sange" was realized in 2002. As 1 million tulip petals fall from the sky, a 95 years old dancer, Kazuo Oono dances. Avant-garde artworks of Nakagawa will be passed on as "forever modernity". They are prologue to Japan's avant-garde works since the time of Sen Rikyu.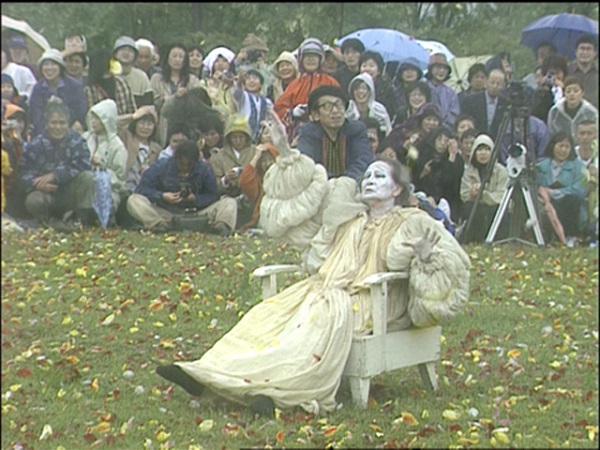 "Sky Sange"
Lecture
Guest Talk (in Japanese)

Aug. 18 (Sat) , after the 18:30 screening ~Guest (Tentative): Makoto Azuma(world-renowned Flower Artist)
Aug. 19 (Sun) , after the 18:30 screening ~Guest (Tentative): Yoshito Ohno(Dancer, Son of Kazuo Ohno)
Aug. 21 (Tue) , after the 18:30 screening ~Guest (Tentative): Kaoru Shinsen(Poet, Chuya Nakahara prize winner)
Aug. 24 (Fri) , after the 18:30 screening ~Guest (Tentative): Nobuhiro Jitsukawa(Former owner of Jiyugaoka Art Gallery)
Aug. 25 (Sat) , after the 18:30 screening ~Guest (Tentative): Tadayasu Sakai(Art Critic, Director of Setagaya Art Museum)


Guest Talk (in Japanese)

Aug. 26 (Sun) , after the 18:30 screening ~Guest (Tentative): Akiko Moriyama(Design Journalist, Professor at Musashino Art University)
Aug. 31 (Fri) , after the 18:30 screening ~Guest (Tentative): Taijin Tendo(Poet, Recitant and Calligrapher)